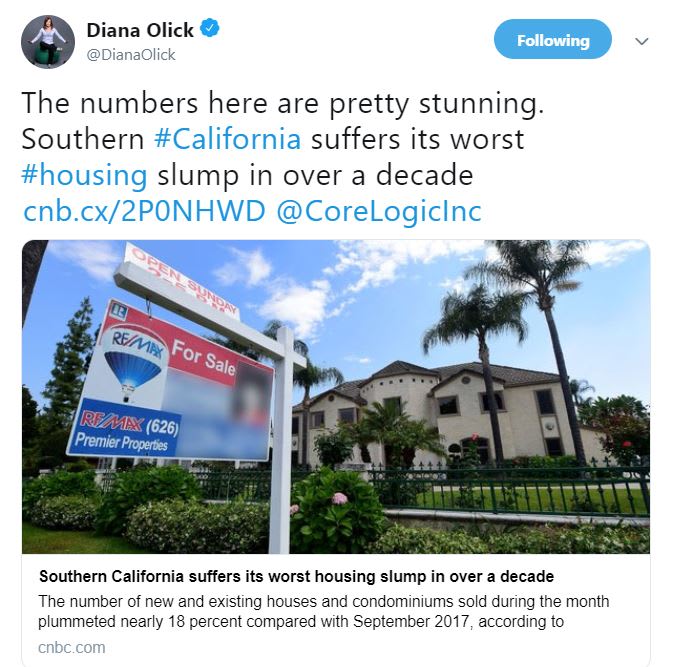 Corelogic reported September sales yesterday, and Doom-Doom Diana rejoiced.
She wrote an article with the headline 'Southern California suffers its worst housing slump in over a decade, and reported that sales were down 18%. Then she tweeted the article with the same soundbite (above).
But further down in her own article was this gem:
There was one caveat to last month's sharp annual sales decline — this September had one less business day for recording transactions. Adjusting for that, the year-over-year decline would be about 13 percent, still the largest in four years."
Link to CNBC article
.
Even though she knew it was really only the worst in four years, she pushed the worst-in-decade angle. Rather than commit to honest reporting, she would rather distort the truth in order to attract the maximum eyeballs.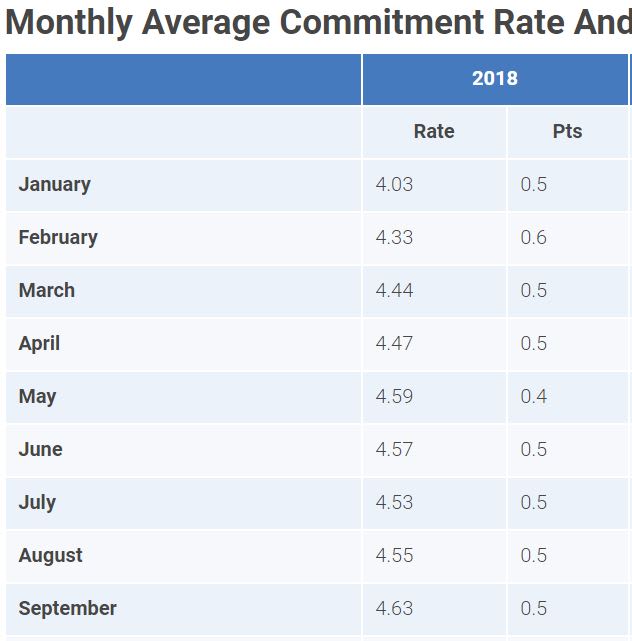 What's really happening?
It is natural for homebuyers to tap the brakes when rates and prices are going up at the same time. It's not because they don't want to buy. It because they wonder if prices will come down, and they don't want to pay too much.
The result? Sales naturally go down.
I'm glad to see that buyers are paying close attention – they should!
People are moving fast and are addicted to soundbites. We have been trained to live in a binary world, and just want to hear if the market is going up or down, like with stocks and bonds.
I'd rather get into the minutiae and ramble on about all the variables. But realistically, who is going to listen when Doom-Doom Diana will give you a sexy hot take in one sentence?
The other tenet that determines the housing market is the seller's mantra: "I don't have to move, I have plenty of time, and I'm not going to give it away!"
Sellers get a vote.
If they aren't going to sell for less, then we roll into Stagnant City. In the past, banks had to sell for what the market would bear, and they would lead the market down as they scrambled to get out.
But banks aren't required to foreclose anymore.
Which leaves us with the question: Which seller has to sell for whatever the market will bear today, even if it is substantially below their perceived value?
The answer is 'None'. Today's home sellers might knock off a couple of bucks, but they're not going to give it away.
So let's determine a way to gauge the market in an easy binary way, and measure the most important tenet – are sellers capitulating?
Sellers always want more than the last sale nearby. Here is a simple way to follow the trend to see if sellers are getting what the last guy got – the month-over-month changes in the Case-Shiller Index: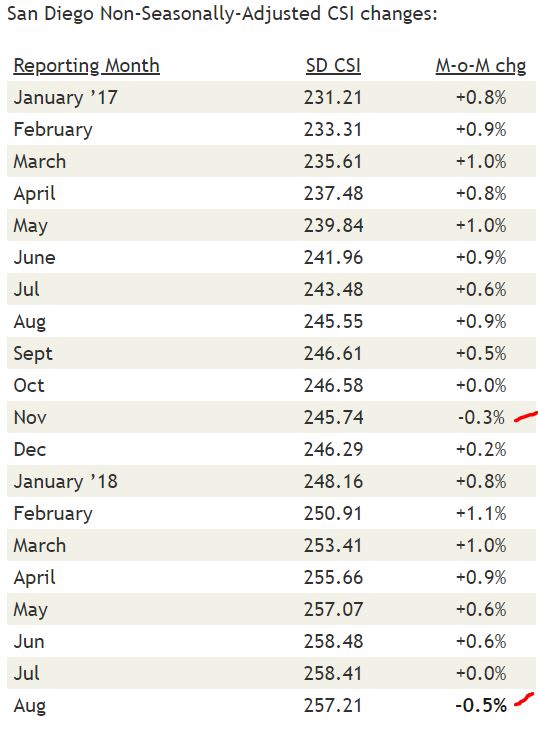 Recently, sellers have been getting about what the last guy got, or a little more. But if we see a series of negative numbers over the next few months, we know that buyers are winning.

Sellers have loads of equity – more than ever – so you would think they wouldn't mind giving some of it back to make a deal. But homes are personal, and the ego is a funny thing. It would take a full panic for sellers to capitulate.