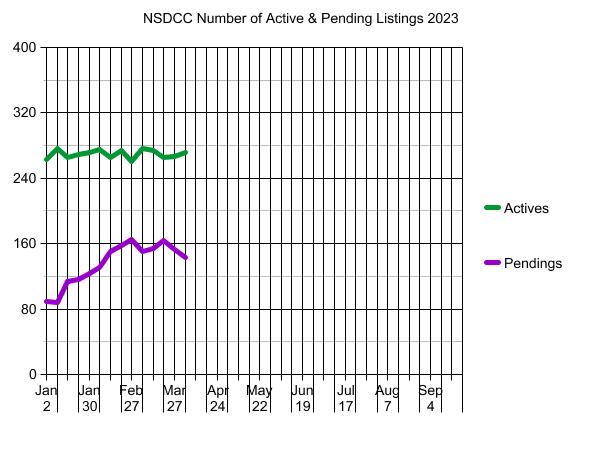 The first quarter of 2023 is complete, and while there will be a few more new NSDCC listings coming to market this month that were dated in March, this gives us a good view of the current predicament:
Detached-Home Listings Between La Jolla and Carlsbad. First Quarter:
The possible assumptions about the dwindling inventory:
The perceived doom makes potential sellers think it's a bad time to sell.
Golden handcuffs – Over 90% of homeowners with a mortgage have a rate lower than today's.
Forever home – Homeowners are satisfied with their current home, now and forever.
La Jolla to Carlsbad is the best place on earth to live.
It might be a combination of all four! Expect the inventory shortage to persist for years to come.
Here's how the graph looked last year at this time: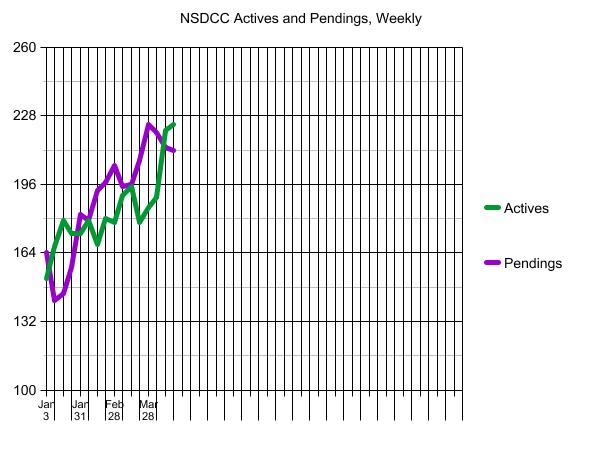 The $0 – $1,500,000 Market:
| | | | | |
| --- | --- | --- | --- | --- |
| Date | NSDCC Active Listings | Avg. LP/sf | Avg. DOM | # of Pendings |
| Jan 2, 2023 | 22 | $719/sf | 75 | 15 |
| Jan 9 | 26 | $687/sf | 50 | 14 |
| Jan 16 | 23 | $701/sf | 52 | 20 |
| Jan 23 | 25 | $751/sf | 60 | 21 |
| Jan 30 | 23 | $788/sf | 45 | 25 |
| Feb 6 | 18 | $750/sf | 59 | 24 |
| Feb 13 | 18 | $770/sf | 48 | 26 |
| Feb 20 | 17 | $778/sf | 49 | 26 |
| Feb 27 | 18 | $802/sf | 48 | 23 |
| Mar 6 | 22 | $802/sf | 44 | 14 |
| Mar 13 | 22 | $747/sf | 45 | 16 |
| Mar 20 | 16 | $826/sf | 49 | 21 |
| Mar 27 | 17 | $853/sf | 47 | 20 |
| Apr 3 | 19 | $803/sf | 37 | 20 |
The $1,500,000 – $2,000,000 Market:
| | | | | |
| --- | --- | --- | --- | --- |
| Date | NSDCC Active Listings | Avg. LP/sf | Avg. DOM | # of Pendings |
| Jan 2, 2023 | 45 | $809/sf | 60 | 18 |
| Jan 9 | 55 | $828/sf | 53 | 19 |
| Jan 16 | 46 | $838/sf | 53 | 30 |
| Jan 23 | 43 | $793/sf | 52 | 31 |
| Jan 30 | 40 | $778/sf | 54 | 34 |
| Feb 6 | 42 | $814/sf | 46 | 30 |
| Feb 13 | 35 | $823/sf | 51 | 39 |
| Feb 20 | 34 | $801/sf | 47 | 40 |
| Feb 27 | 27 | $846/sf | 33 | 45 |
| Mar 6 | 29 | $893/sf | 33 | 41 |
| Mar 13 | 32 | $850/sf | 33 | 39 |
| Mar 20 | 27 | $872/sf | 36 | 41 |
| Mar 27 | 22 | $832/sf | 39 | 36 |
| Apr 3 | 21 | $779/sf | 27 | 36 |
The $2,000,000 – $3,000,000 Market:
| | | | | |
| --- | --- | --- | --- | --- |
| Date | NSDCC Active Listings | Avg. LP/sf | Avg. DOM | # of Pendings |
| Jan 2, 2023 | 52 | $869/sf | 69 | 30 |
| Jan 9 | 57 | $940/sf | 66 | 31 |
| Jan 16 | 50 | $948/sf | 61 | 36 |
| Jan 23 | 51 | $949/sf | 58 | 35 |
| Jan 30 | 54 | $964/sf | 55 | 34 |
| Feb 6 | 60 | $930/sf | 51 | 42 |
| Feb 13 | 51 | $1,038/sf | 52 | 47 |
| Feb 20 | 58 | $1,022/sf | 47 | 46 |
| Feb 27 | 56 | $1,064/sf | 52 | 49 |
| Mar 6 | 57 | $995/sf | 50 | 50 |
| Mar 13 | 55 | $1,015/sf | 53 | 47 |
| Mar 20 | 50 | $1,011/sf | 58 | 50 |
| Mar 27 | 54 | $1,039/sf | 49 | 47 |
| Apr 3 | 54 | $1,035/sf | 52 | 38 |
The $3,000,000 – $4,000,000 Market:
| | | | | |
| --- | --- | --- | --- | --- |
| Date | NSDCC Active Listings | Avg. LP/sf | Avg. DOM | # of Pendings |
| Jan 2, 2023 | 29 | $1,236/sf | 85 | 6 |
| Jan 9 | 29 | $1,180/sf | 80 | 5 |
| Jan 16 | 31 | $1,196/sf | 73 | 8 |
| Jan 23 | 33 | $1,201/sf | 71 | 7 |
| Jan 30 | 37 | $1,218/sf | 70 | 6 |
| Feb 6 | 34 | $1,236/sf | 75 | 12 |
| Feb 13 | 43 | $1,333/sf | 68 | 11 |
| Feb 20 | 39 | $1,392/sf | 71 | 18 |
| Feb 27 | 37 | $1,323/sf | 68 | 22 |
| Mar 6 | 49 | $1,222/sf | 56 | 20 |
| Mar 13 | 49 | $1,312/sf | 49 | 22 |
| Mar 20 | 46 | $1,321/sf | 52 | 25 |
| Mar 27 | 50 | $1,329/sf | 52 | 25 |
| Apr 3 | 49 | $1,342/sf | 51 | 23 |
The $4,000,000+ Market:
| | | | | |
| --- | --- | --- | --- | --- |
| Date | NSDCC Active Listings | Avg. LP/sf | Avg. DOM | # of Pendings |
| Jan 2, 2023 | 121 | $1,744/sf | 126 | 21 |
| Jan 9 | 119 | $1,716/sf | 123 | 20 |
| Jan 16 | 120 | $1,761/sf | 121 | 26 |
| Jan 23 | 122 | $1,707/sf | 119 | 27 |
| Jan 30 | 120 | $1,680/sf | 121 | 30 |
| Feb 6 | 125 | $1,714/sf | 118 | 28 |
| Feb 13 | 121 | $1,750/sf | 116 | 32 |
| Feb 20 | 129 | $1,725/sf | 112 | 33 |
| Feb 27 | 124 | $1,743/sf | 115 | 31 |
| Mar 6 | 122 | $1,753/sf | 109 | 28 |
| Mar 13 | 120 | $1,782/sf | 109 | 32 |
| Mar 20 | 129 | $1,783/sf | 106 | 28 |
| Mar 27 | 127 | $1,781/sf | 106 | 27 |
| Apr 3 | 131 | $1,774/sf | 105 | 27 |
NSDCC Weekly New Listings and New Pendings
| | | | | |
| --- | --- | --- | --- | --- |
| Week | New Listings | New Pendings | Total Actives | Total Pendings |
| Jan 2, 2023 | 11 | 6 | 263 | 89 |
| Jan 9 | 36 | 15 | 277 | 88 |
| Jan 16 | 36 | 34 | 266 | 114 |
| Jan 23 | 36 | 22 | 269 | 116 |
| Jan 30 | 32 | 25 | 272 | 123 |
| Feb 6 | 46 | 33 | 275 | 131 |
| Feb 13 | 30 | 35 | 265 | 150 |
| Feb 20 | 43 | 34 | 274 | 158 |
| Feb 27 | 27 | 30 | 260 | 165 |
| Mar 6 | 45 | 28 | 276 | 150 |
| Mar 13 | 38 | 38 | 274 | 154 |
| Mar 20 | 39 | 37 | 265 | 164 |
| Mar 27 | 36 | 25 | 267 | 153 |
| Apr 3 | 37 | 28 | 271 | 143 |
NSDCC Weekly LP Quartiles
| | | | |
| --- | --- | --- | --- |
| Week | 1st Quartile | 2nd Quartile (Median LP) | 3rd Quartile |
| Jan 2, 2023 | $2,095,000 | $3,695,000 | $5,995,000 |
| Jan 9 | $1,990,000 | $3,495,000 | $5,775,000 |
| Jan 16 | $2,000,000 | $3,574,000 | $5,995,000 |
| Jan 23 | $2,099,000 | $3,595,000 | $5,999,000 |
| Jan 30 | $2,195,000 | $3,525,000 | $5,942,000 |
| Feb 6 | $2,195,000 | $3,598,000 | $6,845,000 |
| Feb 13 | $2,300,000 | $3,795,000 | $6,495,000 |
| Feb 20 | $2,397,500 | $3,950,000 | $6,197,500 |
| Feb 27 | $2,480,800 | $3,970,000 | $6,845,000 |
| Mar 6 | $2,395,000 | $3,749,500 | $5,995,000 |
| Mar 13 | $2,397,000 | $3,772,500 | $5,997,000 |
| Mar 20 | $2,580,000 | $3,995,000 | $6,800,000 |
| Mar 27 | $2,595,000 | $3,995,000 | $6,845,000 |
| Apr 3 | $2,699,000 | $3,995,000 | $6,750,000 |