Inventory Watch: March 7, 2022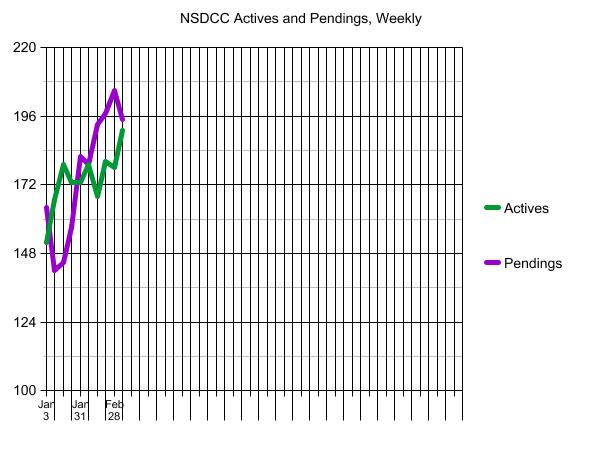 The number of NSDCC active listings is 7% higher today than it was last week, which sounds good. We should see many of them go pending over the next couple of days.
There were 45 closings in the last week, and the total count of pendings only dropped by ten.
This graph should get more interesting as we proceed through the selling season:
Here's the raw data:

When you get above the median list price, there isn't much of a frenzy.
The $0 – $1,500,000 Market:
| | | | | |
| --- | --- | --- | --- | --- |
| Date | NSDCC Active Listings | Avg. LP/sf | Avg. DOM | # of Pendings |
| Jan 3, 2022 | 9 | $832/sf | 35 | 36 |
| Jan 10 | 9 | $766/sf | 28 | 29 |
| Jan 17 | 13 | $773/sf | 26 | 27 |
| Jan 24 | 9 | $818/sf | 15 | 29 |
| Jan 31 | 14 | $752/sf | 14 | 31 |
| Feb 7 | 13 | $774/sf | 12 | 32 |
| Feb 14 | 11 | $826/sf | 12 | 35 |
| Feb 21 | 7 | $889/sf | 17 | 38 |
| Feb 28 | 12 | $888/sf | 17 | 33 |
| Mar 7 | 9 | $1,017/sf | 21 | 33 |
The $1,500,000 – $2,000,000 Market:
| | | | | |
| --- | --- | --- | --- | --- |
| Date | NSDCC Active Listings | Avg. LP/sf | Avg. DOM | # of Pendings |
| Jan 3, 2022 | 8 | $842/sf | 52 | 36 |
| Jan 10 | 13 | $751/sf | 28 | 29 |
| Jan 17 | 16 | $736/sf | 33 | 27 |
| Jan 24 | 16 | $801/sf | 17 | 27 |
| Jan 31 | 15 | $696/sf | 14 | 34 |
| Feb 7 | 15 | $765/sf | 17 | 34 |
| Feb 14 | 10 | $726/sf | 19 | 38 |
| Feb 21 | 19 | $715/sf | 15 | 39 |
| Feb 28 | 9 | $660/sf | 12 | 46 |
| Mar 7 | 16 | $789/sf | 15 | 46 |
The $2,000,000 – $3,000,000 Market:
| | | | | |
| --- | --- | --- | --- | --- |
| Date | NSDCC Active Listings | Avg. LP/sf | Avg. DOM | # of Pendings |
| Jan 3, 2022 | 18 | $1,080/sf | 127 | 43 |
| Jan 10 | 23 | $1,038/sf | 85 | 37 |
| Jan 17 | 26 | $1,044/sf | 80 | 41 |
| Jan 24 | 28 | $1,015/sf | 37 | 42 |
| Jan 31 | 22 | $949/sf | 38 | 47 |
| Feb 7 | 26 | $919/sf | 29 | 42 |
| Feb 14 | 22 | $997/sf | 37 | 49 |
| Feb 21 | 21 | $966/sf | 33 | 54 |
| Feb 28 | 26 | $905/sf | 32 | 57 |
| Mar 7 | 29 | $922/sf | 28 | 57 |
The $3,000,000 – $4,000,000 Market:
| | | | | |
| --- | --- | --- | --- | --- |
| Date | NSDCC Active Listings | Avg. LP/sf | Avg. DOM | # of Pendings |
| Jan 3, 2022 | 19 | $1,230/sf | 90 | 26 |
| Jan 10 | 22 | $1,210/sf | 76 | 25 |
| Jan 17 | 19 | $1,207/sf | 86 | 23 |
| Jan 24 | 17 | $1,129/sf | 92 | 24 |
| Jan 31 | 21 | $1,172/sf | 70 | 22 |
| Feb 7 | 19 | $1,169/sf | 67 | 25 |
| Feb 14 | 19 | $1,234/sf | 65 | 28 |
| Feb 21 | 21 | $1,279/sf | 69 | 28 |
| Feb 28 | 22 | $1,214/sf | 64 | 25 |
| Mar 7 | 27 | $1,295/sf | 60 | 24 |
The $4,000,000+ Market:
| | | | | |
| --- | --- | --- | --- | --- |
| Date | NSDCC Active Listings | Avg. LP/sf | Avg. DOM | # of Pendings |
| Jan 3, 2022 | 100 | $1,884/sf | 128 | 30 |
| Jan 10 | 105 | $1,864/sf | 113 | 29 |
| Jan 17 | 109 | $1,763/sf | 110 | 34 |
| Jan 24 | 105 | $2,130/sf | 114 | 42 |
| Jan 31 | 102 | $2,114/sf | 118 | 53 |
| Feb 7 | 109 | $2,000/sf | 108 | 50 |
| Feb 14 | 108 | $2,005/sf | 109 | 47 |
| Feb 21 | 113 | $2,008/sf | 103 | 43 |
| Feb 28 | 111 | $1,991/sf | 101 | 47 |
| Mar 7 | 115 | $1,904/sf | 91 | 39 |
NSDCC Weekly New Listings and New Pendings
| | | | | |
| --- | --- | --- | --- | --- |
| Week | New Listings | New Pendings | Total Actives | Total Pendings |
| Jan 3, 2022 | 17 | 14 | 152 | 164 |
| Jan 10 | 39 | 18 | 167 | 142 |
| Jan 17 | 34 | 29 | 179 | 145 |
| Jan 24 | 41 | 40 | 173 | 157 |
| Jan 31 | 43 | 40 | 173 | 182 |
| Feb 7 | 43 | 38 | 179 | 179 |
| Feb 14 | 44 | 49 | 168 | 193 |
| Feb 21 | 51 | 38 | 180 | 197 |
| Feb 28 | 39 | 39 | 179 | 205 |
| Mar 7 | 54 | 37 | 191 | 195 |