Inventory Watch: November 6, 2023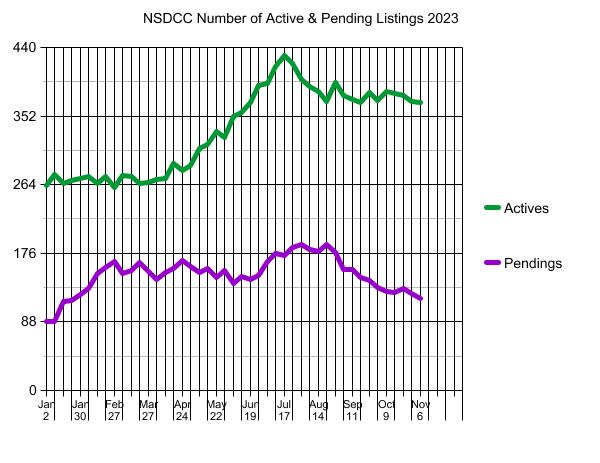 Though the industry is reeling from the controversial lawsuit verdict last week, new listings and new sales keep happening every day – people want and need to move, thankfully.
We are too close to the end of the year to have any violent swings in the market. Anything that happens from now on will be blamed on the holidays. Thanksgiving is only 17 days away!
The $0 – $1,500,000 Market:
| | | | | |
| --- | --- | --- | --- | --- |
| Date | NSDCC Active Listings | Avg. LP/sf | Avg. DOM | # of Pendings |
| Jan 2, 2023 | 22 | $719/sf | 75 | 15 |
| Jan 9 | 26 | $687/sf | 50 | 14 |
| Jan 16 | 23 | $701/sf | 52 | 20 |
| Jan 23 | 25 | $751/sf | 60 | 21 |
| Jan 30 | 23 | $788/sf | 45 | 25 |
| Feb 6 | 18 | $750/sf | 59 | 24 |
| Feb 13 | 18 | $770/sf | 48 | 26 |
| Feb 20 | 17 | $778/sf | 49 | 26 |
| Feb 27 | 18 | $802/sf | 48 | 23 |
| Mar 6 | 22 | $802/sf | 44 | 14 |
| Mar 13 | 22 | $747/sf | 45 | 16 |
| Mar 20 | 16 | $826/sf | 49 | 21 |
| Mar 27 | 17 | $853/sf | 47 | 20 |
| Apr 3 | 19 | $803/sf | 37 | 20 |
| Apr 10 | 11 | $778/sf | 53 | 30 |
| Apr 17 | 15 | $690/sf | 44 | 27 |
| Apr 24 | 12 | $682/sf | 33 | 25 |
| May 1 | 11 | $795/sf | 35 | 27 |
| May 8 | 14 | $780/sf | 33 | 24 |
| May 15 | 16 | $770/sf | 37 | 22 |
| May 22 | 21 | $747/sf | 45 | 18 |
| May 29 | 20 | $757/sf | 52 | 21 |
| Jun 5 | 23 | $755/sf | 49 | 20 |
| Jun 12 | 17 | $711/sf | 31 | 32 |
| Jun 19 | 16 | $674/sf | 34 | 33 |
| Jun 26 | 20 | $677/sf | 32 | 29 |
| Jul 3 | 21 | $645/sf | 28 | 33 |
| Jul 10 | 23 | $692/sf | 30 | 32 |
| Jul 17 | 21 | $730/sf | 37 | 30 |
| Jul 24 | 21 | $704/sf | 37 | 32 |
| Jul 31 | 21 | $713/sf | 44 | 27 |
| Aug 7 | 22 | $692/sf | 50 | 25 |
| Aug 14 | 24 | $693/sf | 48 | 24 |
| Aug 21 | 22 | $688/sf | 25 | 29 |
| Aug 28 | 25 | $679/sf | 47 | 38 |
| Sep 4 | 23 | $718/sf | 50 | 36 |
| Sep 11 | 29 | $685/sf | 44 | 33 |
| Sep 18 | 28 | $696/sf | 35 | 28 |
| Sep 25 | 31 | $725/sf | 36 | 25 |
| Oct 2 | 24 | $711/sf | 50 | 25 |
| Oct 9 | 29 | $742/sf | 47 | 20 |
| Oct 16 | 35 | $762/sf | 45 | 14 |
| Oct 23 | 31 | $745/sf | 43 | 18 |
| Oct 30 | 28 | $777/sf | 40 | 16 |
| Nov 6 | 28 | $791/sf | 41 | 16 |
The $1,500,000 – $2,000,000 Market:
| | | | | |
| --- | --- | --- | --- | --- |
| Date | NSDCC Active Listings | Avg. LP/sf | Avg. DOM | # of Pendings |
| Jan 2, 2023 | 45 | $809/sf | 60 | 18 |
| Jan 9 | 55 | $828/sf | 53 | 19 |
| Jan 16 | 46 | $838/sf | 53 | 30 |
| Jan 23 | 43 | $793/sf | 52 | 31 |
| Jan 30 | 40 | $778/sf | 54 | 34 |
| Feb 6 | 42 | $814/sf | 46 | 30 |
| Feb 13 | 35 | $823/sf | 51 | 39 |
| Feb 20 | 34 | $801/sf | 47 | 40 |
| Feb 27 | 27 | $846/sf | 33 | 45 |
| Mar 6 | 29 | $893/sf | 33 | 41 |
| Mar 13 | 32 | $850/sf | 33 | 39 |
| Mar 20 | 27 | $872/sf | 36 | 41 |
| Mar 27 | 22 | $832/sf | 39 | 36 |
| Apr 3 | 21 | $779/sf | 27 | 36 |
| Apr 10 | 22 | $816/sf | 26 | 33 |
| Apr 17 | 27 | $797/sf | 21 | 33 |
| Apr 24 | 28 | $856/sf | 31 | 34 |
| Apr 24 | 28 | $856/sf | 31 | 34 |
| May 1 | 30 | $789/sf | 28 | 36 |
| May 8 | 36 | $808/sf | 25 | 37 |
| May 15 | 33 | $776/sf | 33 | 44 |
| May 22 | 35 | $818/sf | 36 | 44 |
| May 29 | 38 | $786/sf | 33 | 40 |
| Jun 5 | 39 | $791/sf | 34 | 30 |
| Jun 12 | 37 | $754/sf | 37 | 32 |
| Jun 19 | 36 | $779/sf | 35 | 35 |
| Jun 26 | 39 | $766/sf | 34 | 36 |
| Jul 3 | 39 | $776/sf | 41 | 40 |
| Jul 10 | 45 | $780/sf | 37 | 39 |
| Jul 17 | 53 | $807/sf | 29 | 36 |
| Jul 24 | 51 | $787/sf | 32 | 38 |
| Jul 31 | 51 | $763/sf | 30 | 39 |
| Aug 7 | 45 | $750/sf | 36 | 39 |
| Aug 14 | 42 | $739/sf | 38 | 39 |
| Aug 21 | 39 | $707/sf | 29 | 46 |
| Aug 28 | 51 | $723/sf | 30 | 39 |
| Sep 4 | 46 | $739/sf | 31 | 30 |
| Sep 11 | 42 | $771/sf | 27 | 30 |
| Sep 18 | 40 | $805/sf | 27 | 31 |
| Sep 25 | 38 | $851/sf | 28 | 33 |
| Oct 2 | 45 | $827/sf | 28 | 27 |
| Oct 9 | 43 | $891/sf | 32 | 27 |
| Oct 16 | 48 | $848/sf | 32 | 30 |
| Oct 23 | 48 | $837/sf | 34 | 26 |
| Oct 30 | 49 | $829/sf | 34 | 30 |
| Nov 6 | 51 | $825/sf | 36 | 23 |
The $2,000,000 – $3,000,000 Market:
| | | | | |
| --- | --- | --- | --- | --- |
| Date | NSDCC Active Listings | Avg. LP/sf | Avg. DOM | # of Pendings |
| Jan 2, 2023 | 52 | $869/sf | 69 | 30 |
| Jan 9 | 57 | $940/sf | 66 | 31 |
| Jan 16 | 50 | $948/sf | 61 | 36 |
| Jan 23 | 51 | $949/sf | 58 | 35 |
| Jan 30 | 54 | $964/sf | 55 | 34 |
| Feb 6 | 60 | $930/sf | 51 | 42 |
| Feb 13 | 51 | $1,038/sf | 52 | 47 |
| Feb 20 | 58 | $1,022/sf | 47 | 46 |
| Feb 27 | 56 | $1,064/sf | 52 | 49 |
| Mar 6 | 57 | $995/sf | 50 | 50 |
| Mar 13 | 55 | $1,015/sf | 53 | 47 |
| Mar 20 | 50 | $1,011/sf | 58 | 50 |
| Mar 27 | 54 | $1,039/sf | 49 | 47 |
| Apr 3 | 54 | $1,035/sf | 52 | 38 |
| Apr 10 | 55 | $1,004/sf | 48 | 42 |
| Apr 17 | 64 | $985/sf | 47 | 46 |
| Apr 24 | 57 | $1,001/sf | 43 | 50 |
| May 1 | 57 | $1,008/sf | 42 | 45 |
| May 8 | 68 | $1,031/sf | 36 | 41 |
| May 15 | 71 | $1,007/sf | 34 | 39 |
| May 22 | 77 | $1,003/sf | 34 | 38 |
| May 29 | 74 | $1,002/sf | 39 | 43 |
| Jun 5 | 77 | $991/sf | 42 | 44 |
| Jun 12 | 82 | $986/sf | 48 | 45 |
| Jun 19 | 90 | $978/sf | 48 | 33 |
| Jun 26 | 90 | $1,015/sf | 49 | 33 |
| Jul 3 | 92 | $1,019/sf | 49 | 36 |
| Jul 10 | 89 | $1,021/sf | 50 | 44 |
| Jul 17 | 97 | $1,013/sf | 48 | 42 |
| Jul 24 | 91 | $1,010/sf | 48 | 42 |
| Jul 31 | 81 | $999/sf | 56 | 52 |
| Aug 7 | 81 | $1,011/sf | 53 | 49 |
| Aug 14 | 76 | $996/sf | 58 | 48 |
| Aug 21 | 71 | $959/sf | 45 | 49 |
| Aug 28 | 82 | $990/sf | 46 | 43 |
| Sep 4 | 81 | $1,022/sf | 46 | 39 |
| Sep 11 | 84 | $1,017/sf | 44 | 39 |
| Sep 18 | 82 | $1,031/sf | 43 | 44 |
| Sep 25 | 87 | $1,079/sf | 44 | 41 |
| Oct 2 | 83 | $1,081/sf | 43 | 44 |
| Oct 9 | 83 | $1,056/sf | 46 | 42 |
| Oct 16 | 76 | $1,059/sf | 48 | 42 |
| Oct 23 | 78 | $1,068/sf | 46 | 47 |
| Oct 30 | 72 | $1,068/sf | 53 | 38 |
| Nov 6 | 80 | $1,051/sf | 46 | 33 |
The $3,000,000 – $4,000,000 Market:
| | | | | |
| --- | --- | --- | --- | --- |
| Date | NSDCC Active Listings | Avg. LP/sf | Avg. DOM | # of Pendings |
| Jan 2, 2023 | 29 | $1,236/sf | 85 | 6 |
| Jan 9 | 29 | $1,180/sf | 80 | 5 |
| Jan 16 | 31 | $1,196/sf | 73 | 8 |
| Jan 23 | 33 | $1,201/sf | 71 | 7 |
| Jan 30 | 37 | $1,218/sf | 70 | 6 |
| Feb 6 | 34 | $1,236/sf | 75 | 12 |
| Feb 13 | 43 | $1,333/sf | 68 | 11 |
| Feb 20 | 39 | $1,392/sf | 71 | 18 |
| Feb 27 | 37 | $1,323/sf | 68 | 22 |
| Mar 6 | 49 | $1,222/sf | 56 | 20 |
| Mar 13 | 49 | $1,312/sf | 49 | 22 |
| Mar 20 | 46 | $1,321/sf | 52 | 25 |
| Mar 27 | 50 | $1,329/sf | 52 | 25 |
| Apr 3 | 49 | $1,342/sf | 51 | 23 |
| Apr 10 | 50 | $1,321/sf | 57 | 24 |
| Apr 17 | 47 | $1,342/sf | 59 | 26 |
| Apr 24 | 49 | $1,281/sf | 63 | 28 |
| May 1 | 53 | $1,227/sf | 62 | 23 |
| May 8 | 55 | $1,122/sf | 63 | 19 |
| May 15 | 57 | $1,211/sf | 59 | 19 |
| May 22 | 59 | $1,170/sf | 61 | 19 |
| May 29 | 60 | $1,171/sf | 60 | 17 |
| Jun 5 | 70 | $1,178/sf | 55 | 15 |
| Jun 12 | 64 | $1,198/sf | 53 | 18 |
| Jun 19 | 67 | $1,184/sf | 54 | 20 |
| Jun 26 | 66 | $1,204/sf | 58 | 25 |
| Jul 3 | 63 | $1,215/sf | 58 | 22 |
| Jul 10 | 72 | $1,204/sf | 59 | 23 |
| Jul 17 | 79 | $1,173/sf | 64 | 22 |
| Jul 24 | 78 | $1,182/sf | 63 | 23 |
| Jul 31 | 69 | $1,181/sf | 66 | 22 |
| Aug 7 | 72 | $1,214/sf | 65 | 19 |
| Aug 14 | 65 | $1,224/sf | 67 | 26 |
| Aug 21 | 66 | $1,236/sf | 57 | 24 |
| Aug 28 | 64 | $1,232/sf | 64 | 20 |
| Sep 4 | 59 | $1,215/sf | 70 | 21 |
| Sep 11 | 50 | $1,134/sf | 78 | 22 |
| Sep 18 | 46 | $1,150/sf | 80 | 20 |
| Sep 25 | 47 | $1,182/sf | 84 | 20 |
| Oct 2 | 45 | $1,221/sf | 80 | 15 |
| Oct 9 | 47 | $1,205/sf | 75 | 10 |
| Oct 16 | 49 | $1,192/sf | 80 | 15 |
| Oct 23 | 49 | $1,201/sf | 71 | 13 |
| Oct 30 | 47 | $1,191/sf | 73 | 14 |
| Nov 6 | 46 | $1,183/sf | 77 | 17 |
The $4,000,000+ Market:
| | | | | |
| --- | --- | --- | --- | --- |
| Date | NSDCC Active Listings | Avg. LP/sf | Avg. DOM | # of Pendings |
| Jan 2, 2023 | 121 | $1,744/sf | 126 | 21 |
| Jan 9 | 119 | $1,716/sf | 123 | 20 |
| Jan 16 | 120 | $1,761/sf | 121 | 26 |
| Jan 23 | 122 | $1,707/sf | 119 | 27 |
| Jan 30 | 120 | $1,680/sf | 121 | 30 |
| Feb 6 | 125 | $1,714/sf | 118 | 28 |
| Feb 13 | 121 | $1,750/sf | 116 | 32 |
| Feb 20 | 129 | $1,725/sf | 112 | 33 |
| Feb 27 | 124 | $1,743/sf | 115 | 31 |
| Mar 6 | 122 | $1,753/sf | 109 | 28 |
| Mar 13 | 120 | $1,782/sf | 109 | 32 |
| Mar 20 | 129 | $1,783/sf | 106 | 28 |
| Mar 27 | 127 | $1,781/sf | 106 | 27 |
| Apr 3 | 131 | $1,774/sf | 105 | 27 |
| Apr 10 | 136 | $1,788/sf | 107 | 24 |
| Apr 17 | 140 | $1,776/sf | 108 | 27 |
| Apr 24 | 141 | $1,771/sf | 107 | 31 |
| May 1 | 142 | $1,760/sf | 105 | 30 |
| May 8 | 140 | $1,737/sf | 104 | 32 |
| May 15 | 141 | $1,812/sf | 107 | 37 |
| May 22 | 145 | $1,816/sf | 106 | 29 |
| May 29 | 142 | $1,846/sf | 110 | 36 |
| Jun 5 | 152 | $1,791/sf | 107 | 31 |
| Jun 12 | 163 | $1,777/sf | 106 | 24 |
| Jun 19 | 166 | $1,779/sf | 102 | 26 |
| Jun 26 | 179 | $1,758/sf | 98 | 29 |
| Jul 3 | 184 | $1,670/sf | 91 | 39 |
| Jul 10 | 192 | $1,653/sf | 92 | 42 |
| Jul 17 | 187 | $1,666/sf | 94 | 47 |
| Jul 24 | 185 | $1,668/sf | 98 | 49 |
| Jul 31 | 184 | $1,653/sf | 102 | 51 |
| Aug 7 | 178 | $1,639/sf | 101 | 51 |
| Aug 14 | 182 | $1,625/sf | 106 | 45 |
| Aug 21 | 177 | $1,612/sf | 100 | 43 |
| Aug 28 | 181 | $1,644/sf | 106 | 40 |
| Sep 4 | 179 | $1,646/sf | 109 | 32 |
| Sep 11 | 177 | $1,683/sf | 105 | 32 |
| Sep 18 | 169 | $1,660/sf | 106 | 29 |
| Sep 25 | 183 | $1,662/sf | 106 | 27 |
| Oct 2 | 180 | $1,676/sf | 107 | 25 |
| Oct 9 | 190 | $1,647/sf | 103 | 30 |
| Oct 16 | 185 | $1,613/sf | 104 | 33 |
| Oct 23 | 181 | $1,655/sf | 106 | 32 |
| Oct 30 | 184 | $1,618/sf | 107 | 31 |
| Nov 6 | 172 | $1,622/sf | 106 | 32 |
NSDCC Weekly New Listings and New Pendings
| | | | | |
| --- | --- | --- | --- | --- |
| Week | New Listings | New Pendings | Total Actives | Total Pendings |
| Jan 2, 2023 | 11 | 6 | 263 | 89 |
| Jan 9 | 36 | 15 | 277 | 88 |
| Jan 16 | 36 | 34 | 266 | 114 |
| Jan 23 | 36 | 22 | 269 | 116 |
| Jan 30 | 32 | 25 | 272 | 123 |
| Feb 6 | 46 | 33 | 275 | 131 |
| Feb 13 | 30 | 35 | 265 | 150 |
| Feb 20 | 43 | 34 | 274 | 158 |
| Feb 27 | 27 | 30 | 260 | 165 |
| Mar 6 | 45 | 28 | 276 | 150 |
| Mar 13 | 38 | 38 | 274 | 154 |
| Mar 20 | 39 | 37 | 265 | 164 |
| Mar 27 | 36 | 25 | 267 | 153 |
| Apr 3 | 37 | 28 | 271 | 143 |
| Apr 10 | 36 | 39 | 272 | 151 |
| Apr 17 | 47 | 27 | 291 | 157 |
| Apr 24 | 46 | 41 | 282 | 167 |
| May 1 | 59 | 31 | 288 | 159 |
| May 8 | 53 | 26 | 310 | 151 |
| May 15 | 48 | 31 | 315 | 157 |
| May 22 | 50 | 24 | 332 | 145 |
| May 29 | 43 | 37 | 325 | 154 |
| Jun 5 | 43 | 17 | 352 | 137 |
| Jun 12 | 52 | 36 | 357 | 146 |
| Jun 19 | 48 | 30 | 369 | 143 |
| Jun 26 | 65 | 26 | 391 | 148 |
| Jul 3 | 60 | 48 | 394 | 166 |
| Jul 10 | 51 | 34 | 415 | 176 |
| Jul 17 | 55 | 28 | 430 | 173 |
| Jul 24 | 37 | 43 | 419 | 184 |
| Jul 31 | 48 | 44 | 399 | 187 |
| Aug 7 | 43 | 32 | 390 | 181 |
| Aug 14 | 36 | 24 | 384 | 178 |
| Aug 21 | 41 | 45 | 371 | 187 |
| Aug 28 | 37 | 27 | 395 | 177 |
| Sep 4 | 35 | 29 | 378 | 155 |
| Sep 11 | 40 | 30 | 373 | 155 |
| Sep 18 | 37 | 29 | 369 | 145 |
| Sep 25 | 39 | 20 | 382 | 141 |
| Oct 2 | 44 | 31 | 372 | 132 |
| Oct 9 | 45 | 23 | 384 | 127 |
| Oct 16 | 31 | 23 | 381 | 126 |
| Oct 23 | 36 | 26 | 379 | 131 |
| Oct 30 | 28 | 17 | 371 | 125 |
| Nov 6 | 30 | 23 | 369 | 118 |
NSDCC Weekly LP Quartiles
| | | | |
| --- | --- | --- | --- |
| Week | 1st Quartile | 2nd Quartile (Median LP) | 3rd Quartile |
| Jan 2, 2023 | $2,095,000 | $3,695,000 | $5,995,000 |
| Jan 9 | $1,990,000 | $3,495,000 | $5,775,000 |
| Jan 16 | $2,000,000 | $3,574,000 | $5,995,000 |
| Jan 23 | $2,099,000 | $3,595,000 | $5,999,000 |
| Jan 30 | $2,195,000 | $3,525,000 | $5,942,000 |
| Feb 6 | $2,195,000 | $3,598,000 | $6,845,000 |
| Feb 13 | $2,300,000 | $3,795,000 | $6,495,000 |
| Feb 20 | $2,397,500 | $3,950,000 | $6,197,500 |
| Feb 27 | $2,480,800 | $3,970,000 | $6,845,000 |
| Mar 6 | $2,395,000 | $3,749,500 | $5,995,000 |
| Mar 13 | $2,397,000 | $3,772,500 | $5,997,000 |
| Mar 20 | $2,580,000 | $3,995,000 | $6,800,000 |
| Mar 27 | $2,595,000 | $3,995,000 | $6,845,000 |
| Apr 3 | $2,699,000 | $3,995,000 | $6,750,000 |
| Apr 10 | $2,799,500 | $4,074,997 | $6,895,000 |
| Apr 17 | $2,600,000 | $3,995,000 | $6,597,000 |
| Apr 24 | $2,685,000 | $4,074,997 | $6,895,000 |
| May 1 | $2,695,000 | $3,999,000 | $6,495,000 |
| May 8 | $2,525,000 | $3,849,949 | $5,946,000 |
| May 15 | $2,495,000 | $3,749,400 | $5,950,000 |
| May 22 | $2,444,000 | $3,695,400 | $6,000,000 |
| May 29 | $2,495,000 | $3,699,000 | $6,395,000 |
| Jun 5 | $2,450,000 | $3,641,500 | $6,000,000 |
| Jun 12 | $2,499,900 | $3,799,999 | $6,496,000 |
| Jun 19 | $2,495,000 | $3,750,000 | $6,497,000 |
| Jun 26 | $2,450,000 | $3,799,000 | $6,495,000 |
| Jul 3 | $2,479,000 | $3,891,500 | $6,235,000 |
| Jul 10 | $2,468,000 | $3,900,000 | $5,998,985 |
| Jul 17 | $2,350,000 | $3,669,000 | $5,949,000 |
| Jul 24 | $2,399,000 | $3,799,999 | $5,995,000 |
| Jul 31 | $2,395,000 | $3,888,000 | $6,245,000 |
| Aug 7 | $2,492,000 | $3,895,000 | $6,345,000 |
| Aug 14 | $2,495,000 | $3,995,000 | $6,499,000 |
| Aug 21 | $2,499,000 | $3,995,000 | $6,395,000 |
| Aug 28 | $2,395,000 | $3,850,000 | $6,245,000 |
| Sep 4 | $2,372,500 | $3,957,500 | $6,446,500 |
| Sep 11 | $2,299,500 | $3,995.000 | $6,845,000 |
| Sep 18 | $2,349,600 | $3,995,000 | $6,750,000 |
| Sep 25 | $2,349,500 | $3,991,500 | $6,695,000 |
| Oct 2 | $2,350,000 | $3,995,000 | $6,700,000 |
| Oct 9 | $2,372,500 | $3,999,450 | $6,750,000 |
| Oct 16 | $2,325,000 | $3,995,000 | $6,650,000 |
| Oct 23 | $2,299,000 | $3,995,000 | $6,695,000 |
| Oct 30 | $2,300,000 | $3,999,000 | $6,750,000 |
| Nov 6 | $2,250,000 | $3,888,888 | $6,650,000 |