Inventory Watch: October 2, 2023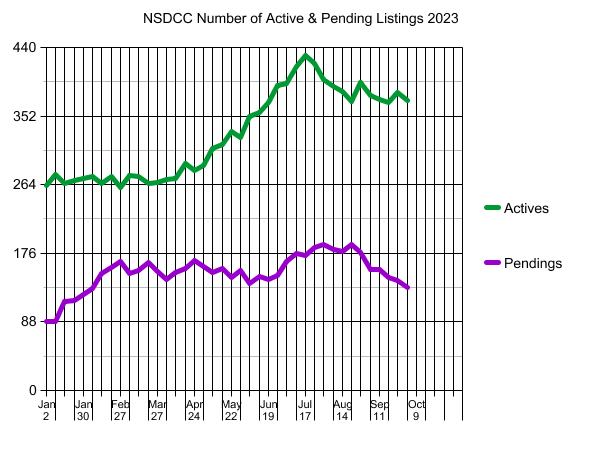 By the end of last year, the active-listing count was down to 288, so there should be a steady decline over the next three months – with more sellers cancelling their listing than selling.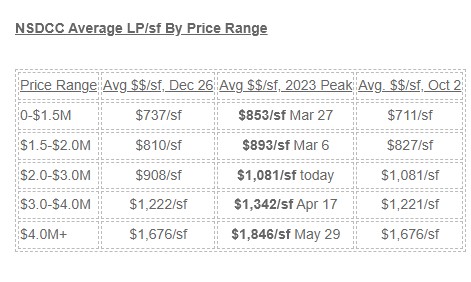 The pricing ride through 2023 has been bumpy – and the similarities today to the beginning of the year are very interesting. On the high-end, the average list-pricing is back to where we started.
The $0 – $1,500,000 Market:
| | | | | |
| --- | --- | --- | --- | --- |
| Date | NSDCC Active Listings | Avg. LP/sf | Avg. DOM | # of Pendings |
| Jan 2, 2023 | 22 | $719/sf | 75 | 15 |
| Jan 9 | 26 | $687/sf | 50 | 14 |
| Jan 16 | 23 | $701/sf | 52 | 20 |
| Jan 23 | 25 | $751/sf | 60 | 21 |
| Jan 30 | 23 | $788/sf | 45 | 25 |
| Feb 6 | 18 | $750/sf | 59 | 24 |
| Feb 13 | 18 | $770/sf | 48 | 26 |
| Feb 20 | 17 | $778/sf | 49 | 26 |
| Feb 27 | 18 | $802/sf | 48 | 23 |
| Mar 6 | 22 | $802/sf | 44 | 14 |
| Mar 13 | 22 | $747/sf | 45 | 16 |
| Mar 20 | 16 | $826/sf | 49 | 21 |
| Mar 27 | 17 | $853/sf | 47 | 20 |
| Apr 3 | 19 | $803/sf | 37 | 20 |
| Apr 10 | 11 | $778/sf | 53 | 30 |
| Apr 17 | 15 | $690/sf | 44 | 27 |
| Apr 24 | 12 | $682/sf | 33 | 25 |
| May 1 | 11 | $795/sf | 35 | 27 |
| May 8 | 14 | $780/sf | 33 | 24 |
| May 15 | 16 | $770/sf | 37 | 22 |
| May 22 | 21 | $747/sf | 45 | 18 |
| May 29 | 20 | $757/sf | 52 | 21 |
| Jun 5 | 23 | $755/sf | 49 | 20 |
| Jun 12 | 17 | $711/sf | 31 | 32 |
| Jun 19 | 16 | $674/sf | 34 | 33 |
| Jun 26 | 20 | $677/sf | 32 | 29 |
| Jul 3 | 21 | $645/sf | 28 | 33 |
| Jul 10 | 23 | $692/sf | 30 | 32 |
| Jul 17 | 21 | $730/sf | 37 | 30 |
| Jul 24 | 21 | $704/sf | 37 | 32 |
| Jul 31 | 21 | $713/sf | 44 | 27 |
| Aug 7 | 22 | $692/sf | 50 | 25 |
| Aug 14 | 24 | $693/sf | 48 | 24 |
| Aug 21 | 22 | $688/sf | 25 | 29 |
| Aug 28 | 25 | $679/sf | 47 | 38 |
| Sep 4 | 23 | $718/sf | 50 | 36 |
| Sep 11 | 29 | $685/sf | 44 | 33 |
| Sep 18 | 28 | $696/sf | 35 | 28 |
| Sep 25 | 31 | $725/sf | 36 | 25 |
| Oct 2 | 24 | $711/sf | 50 | 25 |
The $1,500,000 – $2,000,000 Market:
| | | | | |
| --- | --- | --- | --- | --- |
| Date | NSDCC Active Listings | Avg. LP/sf | Avg. DOM | # of Pendings |
| Jan 2, 2023 | 45 | $809/sf | 60 | 18 |
| Jan 9 | 55 | $828/sf | 53 | 19 |
| Jan 16 | 46 | $838/sf | 53 | 30 |
| Jan 23 | 43 | $793/sf | 52 | 31 |
| Jan 30 | 40 | $778/sf | 54 | 34 |
| Feb 6 | 42 | $814/sf | 46 | 30 |
| Feb 13 | 35 | $823/sf | 51 | 39 |
| Feb 20 | 34 | $801/sf | 47 | 40 |
| Feb 27 | 27 | $846/sf | 33 | 45 |
| Mar 6 | 29 | $893/sf | 33 | 41 |
| Mar 13 | 32 | $850/sf | 33 | 39 |
| Mar 20 | 27 | $872/sf | 36 | 41 |
| Mar 27 | 22 | $832/sf | 39 | 36 |
| Apr 3 | 21 | $779/sf | 27 | 36 |
| Apr 10 | 22 | $816/sf | 26 | 33 |
| Apr 17 | 27 | $797/sf | 21 | 33 |
| Apr 24 | 28 | $856/sf | 31 | 34 |
| Apr 24 | 28 | $856/sf | 31 | 34 |
| May 1 | 30 | $789/sf | 28 | 36 |
| May 8 | 36 | $808/sf | 25 | 37 |
| May 15 | 33 | $776/sf | 33 | 44 |
| May 22 | 35 | $818/sf | 36 | 44 |
| May 29 | 38 | $786/sf | 33 | 40 |
| Jun 5 | 39 | $791/sf | 34 | 30 |
| Jun 12 | 37 | $754/sf | 37 | 32 |
| Jun 19 | 36 | $779/sf | 35 | 35 |
| Jun 26 | 39 | $766/sf | 34 | 36 |
| Jul 3 | 39 | $776/sf | 41 | 40 |
| Jul 10 | 45 | $780/sf | 37 | 39 |
| Jul 17 | 53 | $807/sf | 29 | 36 |
| Jul 24 | 51 | $787/sf | 32 | 38 |
| Jul 31 | 51 | $763/sf | 30 | 39 |
| Aug 7 | 45 | $750/sf | 36 | 39 |
| Aug 14 | 42 | $739/sf | 38 | 39 |
| Aug 21 | 39 | $707/sf | 29 | 46 |
| Aug 28 | 51 | $723/sf | 30 | 39 |
| Sep 4 | 46 | $739/sf | 31 | 30 |
| Sep 11 | 42 | $771/sf | 27 | 30 |
| Sep 18 | 40 | $805/sf | 27 | 31 |
| Sep 25 | 38 | $851/sf | 28 | 33 |
| Oct 2 | 45 | $827/sf | 28 | 27 |
The $2,000,000 – $3,000,000 Market:
| | | | | |
| --- | --- | --- | --- | --- |
| Date | NSDCC Active Listings | Avg. LP/sf | Avg. DOM | # of Pendings |
| Jan 2, 2023 | 52 | $869/sf | 69 | 30 |
| Jan 9 | 57 | $940/sf | 66 | 31 |
| Jan 16 | 50 | $948/sf | 61 | 36 |
| Jan 23 | 51 | $949/sf | 58 | 35 |
| Jan 30 | 54 | $964/sf | 55 | 34 |
| Feb 6 | 60 | $930/sf | 51 | 42 |
| Feb 13 | 51 | $1,038/sf | 52 | 47 |
| Feb 20 | 58 | $1,022/sf | 47 | 46 |
| Feb 27 | 56 | $1,064/sf | 52 | 49 |
| Mar 6 | 57 | $995/sf | 50 | 50 |
| Mar 13 | 55 | $1,015/sf | 53 | 47 |
| Mar 20 | 50 | $1,011/sf | 58 | 50 |
| Mar 27 | 54 | $1,039/sf | 49 | 47 |
| Apr 3 | 54 | $1,035/sf | 52 | 38 |
| Apr 10 | 55 | $1,004/sf | 48 | 42 |
| Apr 17 | 64 | $985/sf | 47 | 46 |
| Apr 24 | 57 | $1,001/sf | 43 | 50 |
| May 1 | 57 | $1,008/sf | 42 | 45 |
| May 8 | 68 | $1,031/sf | 36 | 41 |
| May 15 | 71 | $1,007/sf | 34 | 39 |
| May 22 | 77 | $1,003/sf | 34 | 38 |
| May 29 | 74 | $1,002/sf | 39 | 43 |
| Jun 5 | 77 | $991/sf | 42 | 44 |
| Jun 12 | 82 | $986/sf | 48 | 45 |
| Jun 19 | 90 | $978/sf | 48 | 33 |
| Jun 26 | 90 | $1,015/sf | 49 | 33 |
| Jul 3 | 92 | $1,019/sf | 49 | 36 |
| Jul 10 | 89 | $1,021/sf | 50 | 44 |
| Jul 17 | 97 | $1,013/sf | 48 | 42 |
| Jul 24 | 91 | $1,010/sf | 48 | 42 |
| Jul 31 | 81 | $999/sf | 56 | 52 |
| Aug 7 | 81 | $1,011/sf | 53 | 49 |
| Aug 14 | 76 | $996/sf | 58 | 48 |
| Aug 21 | 71 | $959/sf | 45 | 49 |
| Aug 28 | 82 | $990/sf | 46 | 43 |
| Sep 4 | 81 | $1,022/sf | 46 | 39 |
| Sep 11 | 84 | $1,017/sf | 44 | 39 |
| Sep 18 | 82 | $1,031/sf | 43 | 44 |
| Sep 25 | 87 | $1,079/sf | 44 | 41 |
| Oct 2 | 83 | $1,081/sf | 43 | 44 |
The $3,000,000 – $4,000,000 Market:
| | | | | |
| --- | --- | --- | --- | --- |
| Date | NSDCC Active Listings | Avg. LP/sf | Avg. DOM | # of Pendings |
| Jan 2, 2023 | 29 | $1,236/sf | 85 | 6 |
| Jan 9 | 29 | $1,180/sf | 80 | 5 |
| Jan 16 | 31 | $1,196/sf | 73 | 8 |
| Jan 23 | 33 | $1,201/sf | 71 | 7 |
| Jan 30 | 37 | $1,218/sf | 70 | 6 |
| Feb 6 | 34 | $1,236/sf | 75 | 12 |
| Feb 13 | 43 | $1,333/sf | 68 | 11 |
| Feb 20 | 39 | $1,392/sf | 71 | 18 |
| Feb 27 | 37 | $1,323/sf | 68 | 22 |
| Mar 6 | 49 | $1,222/sf | 56 | 20 |
| Mar 13 | 49 | $1,312/sf | 49 | 22 |
| Mar 20 | 46 | $1,321/sf | 52 | 25 |
| Mar 27 | 50 | $1,329/sf | 52 | 25 |
| Apr 3 | 49 | $1,342/sf | 51 | 23 |
| Apr 10 | 50 | $1,321/sf | 57 | 24 |
| Apr 17 | 47 | $1,342/sf | 59 | 26 |
| Apr 24 | 49 | $1,281/sf | 63 | 28 |
| May 1 | 53 | $1,227/sf | 62 | 23 |
| May 8 | 55 | $1,122/sf | 63 | 19 |
| May 15 | 57 | $1,211/sf | 59 | 19 |
| May 22 | 59 | $1,170/sf | 61 | 19 |
| May 29 | 60 | $1,171/sf | 60 | 17 |
| Jun 5 | 70 | $1,178/sf | 55 | 15 |
| Jun 12 | 64 | $1,198/sf | 53 | 18 |
| Jun 19 | 67 | $1,184/sf | 54 | 20 |
| Jun 26 | 66 | $1,204/sf | 58 | 25 |
| Jul 3 | 63 | $1,215/sf | 58 | 22 |
| Jul 10 | 72 | $1,204/sf | 59 | 23 |
| Jul 17 | 79 | $1,173/sf | 64 | 22 |
| Jul 24 | 78 | $1,182/sf | 63 | 23 |
| Jul 31 | 69 | $1,181/sf | 66 | 22 |
| Aug 7 | 72 | $1,214/sf | 65 | 19 |
| Aug 14 | 65 | $1,224/sf | 67 | 26 |
| Aug 21 | 66 | $1,236/sf | 57 | 24 |
| Aug 28 | 64 | $1,232/sf | 64 | 20 |
| Sep 4 | 59 | $1,215/sf | 70 | 21 |
| Sep 11 | 50 | $1,134/sf | 78 | 22 |
| Sep 18 | 46 | $1,150/sf | 80 | 20 |
| Sep 25 | 47 | $1,182/sf | 84 | 20 |
| Oct 2 | 45 | $1,221/sf | 80 | 15 |
The $4,000,000+ Market:
| | | | | |
| --- | --- | --- | --- | --- |
| Date | NSDCC Active Listings | Avg. LP/sf | Avg. DOM | # of Pendings |
| Jan 2, 2023 | 121 | $1,744/sf | 126 | 21 |
| Jan 9 | 119 | $1,716/sf | 123 | 20 |
| Jan 16 | 120 | $1,761/sf | 121 | 26 |
| Jan 23 | 122 | $1,707/sf | 119 | 27 |
| Jan 30 | 120 | $1,680/sf | 121 | 30 |
| Feb 6 | 125 | $1,714/sf | 118 | 28 |
| Feb 13 | 121 | $1,750/sf | 116 | 32 |
| Feb 20 | 129 | $1,725/sf | 112 | 33 |
| Feb 27 | 124 | $1,743/sf | 115 | 31 |
| Mar 6 | 122 | $1,753/sf | 109 | 28 |
| Mar 13 | 120 | $1,782/sf | 109 | 32 |
| Mar 20 | 129 | $1,783/sf | 106 | 28 |
| Mar 27 | 127 | $1,781/sf | 106 | 27 |
| Apr 3 | 131 | $1,774/sf | 105 | 27 |
| Apr 10 | 136 | $1,788/sf | 107 | 24 |
| Apr 17 | 140 | $1,776/sf | 108 | 27 |
| Apr 24 | 141 | $1,771/sf | 107 | 31 |
| May 1 | 142 | $1,760/sf | 105 | 30 |
| May 8 | 140 | $1,737/sf | 104 | 32 |
| May 15 | 141 | $1,812/sf | 107 | 37 |
| May 22 | 145 | $1,816/sf | 106 | 29 |
| May 29 | 142 | $1,846/sf | 110 | 36 |
| Jun 5 | 152 | $1,791/sf | 107 | 31 |
| Jun 12 | 163 | $1,777/sf | 106 | 24 |
| Jun 19 | 166 | $1,779/sf | 102 | 26 |
| Jun 26 | 179 | $1,758/sf | 98 | 29 |
| Jul 3 | 184 | $1,670/sf | 91 | 39 |
| Jul 10 | 192 | $1,653/sf | 92 | 42 |
| Jul 17 | 187 | $1,666/sf | 94 | 47 |
| Jul 24 | 185 | $1,668/sf | 98 | 49 |
| Jul 31 | 184 | $1,653/sf | 102 | 51 |
| Aug 7 | 178 | $1,639/sf | 101 | 51 |
| Aug 14 | 182 | $1,625/sf | 106 | 45 |
| Aug 21 | 177 | $1,612/sf | 100 | 43 |
| Aug 28 | 181 | $1,644/sf | 106 | 40 |
| Sep 4 | 179 | $1,646/sf | 109 | 32 |
| Sep 11 | 177 | $1,683/sf | 105 | 32 |
| Sep 18 | 169 | $1,660/sf | 106 | 29 |
| Sep 25 | 183 | $1,662/sf | 106 | 27 |
| Oct 2 | 180 | $1,676/sf | 107 | 25 |
NSDCC Weekly New Listings and New Pendings
| | | | | |
| --- | --- | --- | --- | --- |
| Week | New Listings | New Pendings | Total Actives | Total Pendings |
| Jan 2, 2023 | 11 | 6 | 263 | 89 |
| Jan 9 | 36 | 15 | 277 | 88 |
| Jan 16 | 36 | 34 | 266 | 114 |
| Jan 23 | 36 | 22 | 269 | 116 |
| Jan 30 | 32 | 25 | 272 | 123 |
| Feb 6 | 46 | 33 | 275 | 131 |
| Feb 13 | 30 | 35 | 265 | 150 |
| Feb 20 | 43 | 34 | 274 | 158 |
| Feb 27 | 27 | 30 | 260 | 165 |
| Mar 6 | 45 | 28 | 276 | 150 |
| Mar 13 | 38 | 38 | 274 | 154 |
| Mar 20 | 39 | 37 | 265 | 164 |
| Mar 27 | 36 | 25 | 267 | 153 |
| Apr 3 | 37 | 28 | 271 | 143 |
| Apr 10 | 36 | 39 | 272 | 151 |
| Apr 17 | 47 | 27 | 291 | 157 |
| Apr 24 | 46 | 41 | 282 | 167 |
| May 1 | 59 | 31 | 288 | 159 |
| May 8 | 53 | 26 | 310 | 151 |
| May 15 | 48 | 31 | 315 | 157 |
| May 22 | 50 | 24 | 332 | 145 |
| May 29 | 43 | 37 | 325 | 154 |
| Jun 5 | 43 | 17 | 352 | 137 |
| Jun 12 | 52 | 36 | 357 | 146 |
| Jun 19 | 48 | 30 | 369 | 143 |
| Jun 26 | 65 | 26 | 391 | 148 |
| Jul 3 | 60 | 48 | 394 | 166 |
| Jul 10 | 51 | 34 | 415 | 176 |
| Jul 17 | 55 | 28 | 430 | 173 |
| Jul 24 | 37 | 43 | 419 | 184 |
| Jul 31 | 48 | 44 | 399 | 187 |
| Aug 7 | 43 | 32 | 390 | 181 |
| Aug 14 | 36 | 24 | 384 | 178 |
| Aug 21 | 41 | 45 | 371 | 187 |
| Aug 28 | 37 | 27 | 395 | 177 |
| Sep 4 | 35 | 29 | 378 | 155 |
| Sep 11 | 40 | 30 | 373 | 155 |
| Sep 18 | 37 | 29 | 369 | 145 |
| Sep 25 | 39 | 20 | 382 | 141 |
| Oct 2 | 44 | 31 | 372 | 132 |
NSDCC Weekly LP Quartiles
| | | | |
| --- | --- | --- | --- |
| Week | 1st Quartile | 2nd Quartile (Median LP) | 3rd Quartile |
| Jan 2, 2023 | $2,095,000 | $3,695,000 | $5,995,000 |
| Jan 9 | $1,990,000 | $3,495,000 | $5,775,000 |
| Jan 16 | $2,000,000 | $3,574,000 | $5,995,000 |
| Jan 23 | $2,099,000 | $3,595,000 | $5,999,000 |
| Jan 30 | $2,195,000 | $3,525,000 | $5,942,000 |
| Feb 6 | $2,195,000 | $3,598,000 | $6,845,000 |
| Feb 13 | $2,300,000 | $3,795,000 | $6,495,000 |
| Feb 20 | $2,397,500 | $3,950,000 | $6,197,500 |
| Feb 27 | $2,480,800 | $3,970,000 | $6,845,000 |
| Mar 6 | $2,395,000 | $3,749,500 | $5,995,000 |
| Mar 13 | $2,397,000 | $3,772,500 | $5,997,000 |
| Mar 20 | $2,580,000 | $3,995,000 | $6,800,000 |
| Mar 27 | $2,595,000 | $3,995,000 | $6,845,000 |
| Apr 3 | $2,699,000 | $3,995,000 | $6,750,000 |
| Apr 10 | $2,799,500 | $4,074,997 | $6,895,000 |
| Apr 17 | $2,600,000 | $3,995,000 | $6,597,000 |
| Apr 24 | $2,685,000 | $4,074,997 | $6,895,000 |
| May 1 | $2,695,000 | $3,999,000 | $6,495,000 |
| May 8 | $2,525,000 | $3,849,949 | $5,946,000 |
| May 15 | $2,495,000 | $3,749,400 | $5,950,000 |
| May 22 | $2,444,000 | $3,695,400 | $6,000,000 |
| May 29 | $2,495,000 | $3,699,000 | $6,395,000 |
| Jun 5 | $2,450,000 | $3,641,500 | $6,000,000 |
| Jun 12 | $2,499,900 | $3,799,999 | $6,496,000 |
| Jun 19 | $2,495,000 | $3,750,000 | $6,497,000 |
| Jun 26 | $2,450,000 | $3,799,000 | $6,495,000 |
| Jul 3 | $2,479,000 | $3,891,500 | $6,235,000 |
| Jul 10 | $2,468,000 | $3,900,000 | $5,998,985 |
| Jul 17 | $2,350,000 | $3,669,000 | $5,949,000 |
| Jul 24 | $2,399,000 | $3,799,999 | $5,995,000 |
| Jul 31 | $2,395,000 | $3,888,000 | $6,245,000 |
| Aug 7 | $2,492,000 | $3,895,000 | $6,345,000 |
| Aug 14 | $2,495,000 | $3,995,000 | $6,499,000 |
| Aug 21 | $2,499,000 | $3,995,000 | $6,395,000 |
| Aug 28 | $2,395,000 | $3,850,000 | $6,245,000 |
| Sep 4 | $2,372,500 | $3,957,500 | $6,446,500 |
| Sep 11 | $2,299,500 | $3,995.000 | $6,845,000 |
| Sep 18 | $2,349,600 | $3,995,000 | $6,750,000 |
| Sep 25 | $2,349,500 | $3,991,500 | $6,695,000 |
| Oct 2 | $2,350,000 | $3,995,000 | $6,700,000 |