2023 is here! Here's what you need to know regarding San Diego real estate.
What to Expect in 2023
If there is one word to sum up what to expect in 2023, it's sluggish.
Here's why:
1. Dull (not sharp) pricing.
2. Patient buyers.
3. Higher rates.
4. Slow reactions.
Those sellers (and their agents) who are bold enough to list their home for sale early in the year will be relying on recent comparable sales to guide them on price. But where are the 2022 comps? They are all going to be higher than what the buyers are thinking. Sellers like to use the highest sales to determine their list price, so they will consider the frenzied-up sales from early 2022 as part of the dream too.
Their only hope is that no other new listings pop up nearby to spoil it for them.
Buyers will be determined to wait this out.
Mortgage rates will be climbing higher, and buyers will want to be compensated with lower prices – and it won't matter much what the price is, they will just want it lower. But sellers aren't going to believe it until they test out their aspirational price first.
As a result, we're going to see more like this:

Listing agents won't be rigorous about their initial list price, or about reducing their price after a few weeks of failure on the open market. They will just wait it out, and then 70 days later they will get lowballed….and just take it.
We know that the estate sales will be a predominant part of the inventory from now on, and they will be particularly prone to being hit like this. But because the kids will be tired of waiting for their windfall, they will succumb and blame Jay Powell.
But hopefully it will mean that the needed price discovery will be completed in 2023!
New Year Requests of Agents
Let's note how drastic things have changed since rates went up:
NSDCC Detached-Home Sales, December
2012: 297
2013: 223
2014: 255
2015: 259
2016: 241
2017: 225
2018: 196
2019: 229
2020: 290
2021: 183
2022: 95
The best forecasting tool is the number of sales.
Look at how crazy-high the number of sales were in 2012 and 2020. In both cases, the demand had been building up and it really cut loose late in the fourth quarter – in spite of the holidays – to close a third more sales than normal (the average count of the other nine years is 212 sales). Then the two biggest frenzies in history broke out in the following spring.
The number of December sales can help us predict what is coming – and it doesn't look good for 2023!
We will get our 100 sales once everyone reports their closings, but it's HALF of the average count.
This year was terrible for many, if not most, agents, and about the best we can say is that we survived. It's going to get worse in 2023 because there aren't enough sales to go around. The conditions next year will force many agents into early retirement – why keep paying your dues if there's not much hope?
You can't ignore the current predicament and keep doing the same things you've done the last 5-10 years. You gotta do better. The industry has to do better.
Here are my 2023 requests of agents:
Publish relevant data that's easy for consumers to digest. Come up with something juicy that makes a difference, instead of the usual agent blather we see on social media. Printing the number of sales is good, but also add your opinion on what it means – the audience wants hear your interpretation of the data and they will spend a minute or two to get it.
Make it easy to show your listings. If you employ the same hurdles from the frenzy days – like insisting that I send my buyers' financials just to schedule a showing – then you should pay us more commission to compensate for the hassle.
Will you provide buyers and agents with a walk-through video of your listings please? Let's preview the homes in advance by video, which will save your time if it isn't a fit. Adding helpful tips or witty remarks are great, but they are not required. Put the video link in the listing remarks – which is still allowed by the MLS. I don't see many Matterport 3D tours or any video tours, do you? Let's upgrade!

We will be having HALF the normal number of sales in the early months of 2023. If we're not doing it better, then these conditions will persist, and could go on for years.
Every day, we are getting closer to the end. Let's give it everything we got!
Wild & Crazy Ideas for 2023
Optimistically, what are positive things that could happen this year?
The Fed pauses in March. They meet twice in the first quarter of 2023 – February 1 and March 16th. I'll live through another 1/2% hike a month from now, but then a surprising Fed pause in March would give the spring market a welcome boost – and hopefully keep mortgage rates in the 5s.
There were close to 2,000 NSDCC homes sold in 2022. We'll probably have between 1,200 and 1,600 sales this year? A Fed boost would give the spring market a few months to transact in a more-predictable environment, and probably be the difference between 1,200 and 1,600 NSDCC sales.
Have you heard anything new about the site of the old Power Plant in Carlsbad? Or the Ponto site? I didn't see anything in the city-council agendas from the last couple of months, but they should be in the works. The power plant site is not big enough to be a major residential site, but it would get interesting if try to turn it into a higher-end hotel (like they did at the Alila Marea and at the pier in Oceanside). Nothing on the 14-acre Ponto site either – with a current plan for a luxury resort hotel with 274 rooms and 48 timeshares that's been for sale at $38,000,000 but they put their listing on hold last week.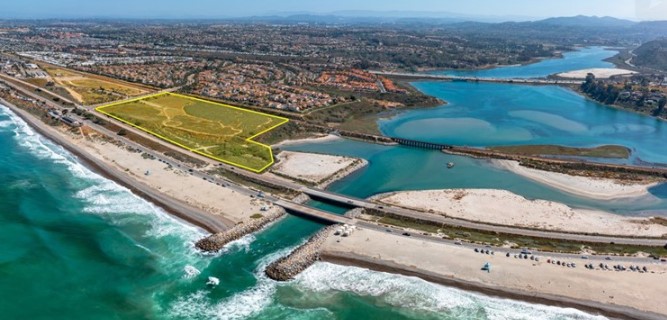 If they want to do something to increase the demand for homes, they could make it easier to get a mortgage. Self-employed people still don't have reasonable access to mortgages at market rates. If a big lender was willing to calculate the borrower's income from bank statements instead of tax returns, more buyers would qualify. But the loans need to be at a decent rate – and a seven or 10-yr ARM would be fine (it doesn't have to be a 30-year fixed rate).
Speaking of ways to improve the supply and demand for homes, converting the MCAS Miramar to civilian use should be considered. When the cost of housing is so ridiculous, it makes sense to develop 23,116 acres in the middle of town into a booming, multi-use development that features housing for all. We could be the national example on how to handle the future needs of the people.
The lawsuits against realtors will get addressed towards the end of 2023 and potentially dismantle buyer-agents. It would be awesome if a new auction-based brokerage would hit the scene about the same time!
Other positives about 2023 include it not being an election year, and we'll be further beyond the pandemic. There should be more commercial and industrial-zoned properties converting to residential uses. The ADUs and aging-in-place will be priorities for many. Every month/year that goes by will push people closer to making their next move – if you know it's coming, then let's give it a go in 2023!
I think everyone who buys or sells a home in 2023 will consider it a major accomplishment!