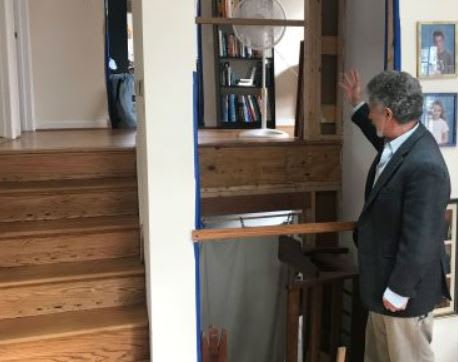 Diana had a piece on seniors aging in place
, and put some numbers on it:
With more seniors than ever aging in place and choosing not to sell the family home, an estimated 1.6 million fewer properties are now available in a market already experiencing a critical shortage, according to Freddie Mac.
That is about the same number of new single-family and multifamily housing units built each year.
That stay-put trend is crashing into the rising demand for housing from the huge millennial generation: fewer homes for sale will continue to put upward pressure on already overheated home prices.
"There's a stalemate," said Jane Fairweather, a longtime real estate agent in Bethesda, Maryland. "We can't get enough housing for the couples who want to put their kids in good public school systems."
"We believe the additional demand for homeownership from seniors aging in place will increase the relative price of owning versus renting, making renting more attractive to younger generations," said Sam Khater, chief economist at Freddie Mac, who estimates that the current market needs about 2.5 million more homes to meet demand.

The reasons more seniors are choosing to stay in the homes where they raised their families are manifold.

"They love their homes, it's their chief investment, they love their neighborhoods and their communities, and they love the control they get in their own house," said 64-year-old Louis Tenenbaum, a housing advocate in Kensington, Maryland. "They decide when to get up when to go to sleep, what to eat, who to have as visitors."

Tenenbaum is preparing to age in place himself. He is in the midst of building an elevator into his three-level home. He has also widened doorways, made a curbless shower, and lowered his kitchen counters, should he ever be in a wheelchair. he notes that 63 percent of the $383 billion spent on remodeling each year is among people over 50 years of age, according to Harvard's Joint Center for Housing. The trouble is they don't always add features for aging in place.

"If we can shift the remodeling industry to be doing those types of things when they're already remodeling, then we really start to change the housing infrastructure and we create this place where people can enjoy living out their years in their home," Tenenbaum said.

That's great for homeowners, but not so great for young buyers hoping to move into larger suburban homes.
Bill featured the article on CR, and he had these thoughts:


Even when people move to retirement communities, many will not sell their homes. They will rent them instead – especially in the higher-priced areas with significant capital gains – since they have to pay capital gains if they sell (above $250K exclusion for single, $500K for married), but the property steps up in value when they pass away. So they can leave the property to their kids with no taxes.

This could be fixed with policy changes. Either eliminate the "step-up" basis (take away the incentive to hold) or give older homeowners a one-time unlimited exclusion (so they can sell while they are alive).

Aging in place is great for the senior, but what frequently happens, is a four-bedroom house is occupied by just one person (inefficient). This is another area where zoning changes could help – let the senior sell her larger family home without tax consequences, and move to a smaller home in the same community (so they can keep their local ties).
Wouldn't it be nice if everyone had a one-time unlimited exclusion from the capital-gains tax! Would it make your move? Is it the only thing that's holding seniors back? I don't think so. The general comfort of staying put has many physical, mental, and emotional benefits. But if the government ever gets realistic about fixing the housing crisis, this would be the place to start.