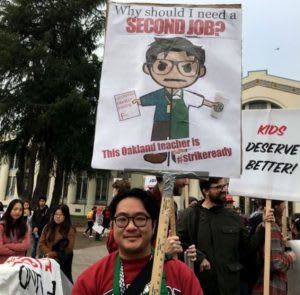 The next election is 20 months away, but the discussion over Prop 13 is already heating up. It appears the fight is shaping up to be teachers vs. the old guard
.
That is where the California Schools and Local Communities Funding Act comes in.

Proposition 13 limits property taxes for homes and businesses to 1% of their taxable value. It also prohibits that taxable value from rising more than 2% each year, no matter how much a property's market value rises. The longer a person or business owns a piece of property, the less they pay in taxes compared with market value.

What the new ballot measure would do is strip that protection from commercial and industrial properties while leaving residential properties untouched. Its proponents estimate that the measure would bring in $11 billion each year to be split among K-12 education, community colleges, and local government bodies.

How much would that bring in to primary and secondary schools in Los Angeles County? An estimated $1.375 billion each year.

Veronica Carrizales is policy and campaign director for California Calls, a statewide alliance of community organizations that is pushing for the new measure, which is also known as "split-roll." Like many analysts, she argues that the origins of the recently ended strike go back to Proposition 13.

The 1978 measure "caused massive disinvestment of local government and public education," she said. "It did this by creating a loophole for large commercial and industrial corporations that have essentially avoided paying their fair share."

Jon Coupal, president of the Howard Jarvis Taxpayers Assn., calls that "an urban myth." His organization is behind Proposition 13 and plans an expensive and vigorous campaign to beat back any changes to it.

If the ballot measure passes, Coupal said, "citizen taxpayers … will end up paying more for the goods and services they buy," and L.A. Unified will be no better off.

"This school district is the nation's poster child for mismanagement," he said.

Joshua Pechthalt, president of the California Federation of Teachers, said the $5 billion or so that will flow toward education if the new ballot measure passes is a significant amount of money.

"But I don't think it's enough money," he said. "I think other things will have to be done to move California and LAUSD into one of the top states in the nation in terms of per-pupil spending and class size."


It's unlikely that the middle class is going to feel sorry for the owners of commercial and industrial real estate, and more strikes by teachers should help convince voters to change Prop 13 – especially those who weren't around in 1978. We know that the elimination of tax-basis inheritance by kids and grandkids will be included in the initiative, but what else? This will be the chance to slip in other changes – let's keep an eye on it!