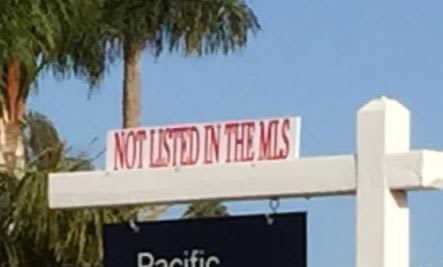 This is the fourth installment of my essay on the future of real estate sales. I'll send this along to
Brad Inman, who is gathering thoughts
for a leadership conference at the end of March, so they have my perspective from the street.
In summary:
The unconscious desperation among agents is ripping apart the formal agreement between brokers to share listings. The environment is going the way of commercial brokers, where exposing listings to other agents is a last resort.
We see it happening –
there is the occasional article
– but without vigorous intervention by realtors themselves, the MLS will slowly disintegrate and be picked apart by outsiders.
Sadly, the sharing of listings is what is best for sellers, buyers, AND realtors, but the greed and desperation among agents gets in the way.
What Can Be Done? What Are The Choices?
Individual agents can adopt a full-transparency program, starting with publicly describing the specific services they offer, and their commission rates. If consumers took the time to educate themselves about the differences between agents, at least they would make better decisions than they do now. It's unlikely that this will happen, because agents are lazy and won't bother, unless forced to do so.
We can hope that N.A.R., C.A.R., big brokerages and other industry titans will address this specific problem, and implement changes to save the MLS and broker cooperation out of a commitment of doing what's best for consumers. Probably the least likely of these five to actually happen.
We can have big leadership conferences where outsiders will speculate how the disrupters will pick us apart, piece by piece.
We can wait for the government to intervene.
We can do nothing, and watch the broker cooperation via the MLS – which is the best thing for everyone involved – die a slow but certain death.
We can hope that somebody will find an answer. But it would have to include ways to eliminate agent shenanigans, invigorate consumers, and be a forward-thinking solution that benefits all.
The inquiry might start with creating a national MLS, or electing a real estate czar, or encouraging agents to keep their word and quit cheating their own customers out of what's best.
But what if a
thing
was the answer?
The solution is
LIVE AUCTIONS.
We can easily incorporate them into our regular business as the process to select the winning bidder. All other selection processes used today are subject to the listing agent tilting the table – with a live auction, all participants will be watching, and able to determine the actual winning bidder.
Could there be shill bidders who run up the price? Yes, but let's insist that every buyer is represented by a realtor – that way, at least the agent's reputation is on the line.
Live auctions would keep listing agents and buyer-agents employed, though the fee structure may be in flux. But our commissions are already under attack, so let's take a chance that consumers will agree to pay a reasonable fee for these live auctions, and the other additional benefits provided by realtors.
A live auction doesn't have to be a showy, champagne-filled soiree with a fast-talking auctioneer. They can be as simple as gathering the buyers around the living room, in a rather informal setting.
I am offering the live-auction strategy to my sellers as the fairest and most effective way to select a buyer, and let the full transparency be the best way to reach top-dollar.
Here's an example – catch the winning agent's comments at the 9-minute mark: