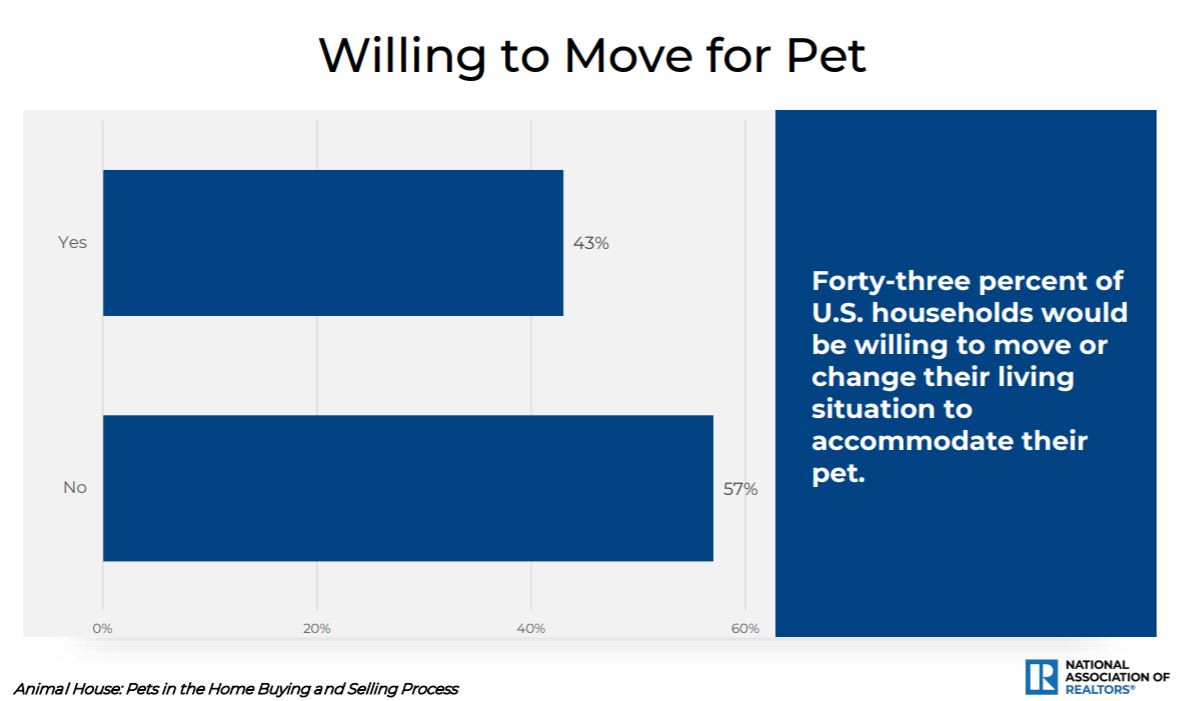 In April 2020, the National Association of Realtors conducted the survey, "Animal House: Pets in the Home Buying and Selling Process." Below you can find the overview of the survey:
Sixty-six percent of U.S. households currently have a pet or plan to get one in the future, proving that pets and their effects on a home, various belongings and toys, and accommodations must be considered for a majority of households. Additionally, 43 percent of households would be willing to move to better accommodate their pet(s), demonstrating that this is a priority among consumers. A small percentage, one percent, of recent home buyers said they were prompted to make their purchase by the desire for a better home for their pet(s).
When searching for a new home, consumers don't only look for pet-friendly features within the home; 18 percent of recent home buyers said it was very important that their new neighborhood is convenient to a vet and/or outdoor space for their pet(s). This is important to consider when marketing a home for sale as potential considerations from prospective buyers.
Given their prevalence, REALTORS® must be equipped to advise their clients regarding their pets throughout the buying and selling process. Within the past year, a median of 38 percent of members' clients have owned a pet, companion animal, or service animal; and 18 percent of members have represented clients that have moved solely for their animal.
Pets are not only important to members professionally, but also personally. Eighty-one percent of REALTORS® consider themselves animal lovers. Additionally, 14 percent of members volunteer for an organization that helps animals. Among those who consider themselves animal lovers and/or volunteer at an animal organization, 13 percent advertise this to potential clients.
Not only do pets influence certain aspects sought after in homes themselves, but also in communities: 68 percent of REALTORS' clients say that the animal policy influenced their decision to rent/buy in a particular community. These animal guidelines are an important aspect to consider in a home purchase, as they can include significant added expenses. When finding a home for their clients, the most important feature to members' clients in terms of their animals' situation is a fenced yard, followed by a large enough home for the household and pet, and flooring.
Click here
to view the entire overview and details of the survey.