With no real surge in inventory (yet), we are entering the hyper-frenzy phase now.
It's an environment where most listing agents are ill-equipped to handle the pressure because they've never done this before. The only time we've been close to having insanity like this was at the bottom in 2009 when the bank-owned properties were getting 10-30 offers on every property.
How many REO listing agents are left, besides me? Yep, I can't think of any either.
As a result, sellers are leaving money on the table all over the county. Why? Because inexperienced agents get inundated with requests and offers, and instead of handling them professionally, they just shut it down instead. Some recent examples:
They stop answering the phone, or returning calls/texts.

They direct you to automated services.

They mark the listing as pending or withdrawn before accepting an offer.

They accept an offer before showing appointments are completed.
Basically, They Blow You Off.


Here are some examples I've witnessed recently:


One listing agent pulled the usual stunt – the blackout, where he doesn't answer the phone or communicate in any way until the deal is done. Once he got the winning offer signed, he started answering his phone again (instead of communicating with the losers that he "went in a different direction"). We had offered full price on a two-day old listing, and lost without any chance to compete. When I got him on the phone, I asked, "You must have sold it for at least $50,000 over list?", to which he said, "No, $15,000 over". Some agents prefer to grab the first decent offer, rather than create a bidding war – so get there early!


A different listing agent on another new listing told me that he had four offers in hand, and expected a couple of others – and he couldn't say if he was going to counter-offer. So we made a new offer that was $80,000 over list price, to which he responded, "Just finalized the transaction", and then emailed me a couple of hours later to let me know that the seller has rejected my offer. Rubbing the losers' nose in it is another common trait among the inexperienced listing agents too.
This listing agent reported that she had over 50 phone calls between Friday night and Saturday afternoon, so they raised the price by $200,000: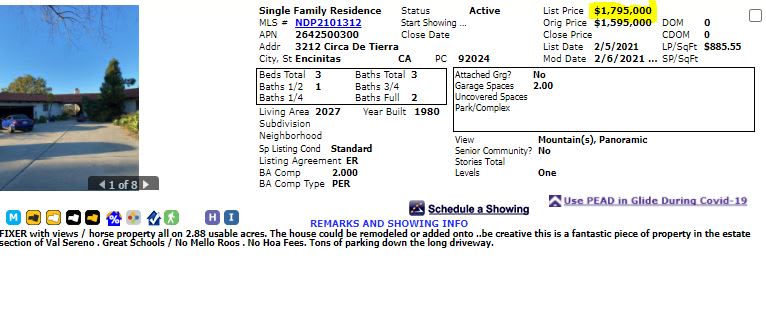 The second-wildest bidding war of 2021 (so far) resulted in the winner paying $2,100,000 cash for this house on January 13th (listed for $1,850,000, and ten offers submitted). With the frenzy conditions, buyers may try to make a quick buck – don't be surprised if we see more of this:

While some agents may think that it is their prerogative, they aren't upholding their fiduciary duty to their seller by limiting the showings. Furthermore, they have an obligation to their fellow agents to allow them the opportunity to sell the listing. Yes, broker cooperation includes letting every agent have a chance to sell your listing – it's how the system works. You sell my listings, and I sell yours.
It's gotten so bad that another agent was joking with me that when he sees a hot new listing comes up, he just books the first appointment available, and then looks for a buyer.
If we are going to abandon the traditions, let's take it a step further to solve all the problems at once.
There have been misguided attempts previously that have probably sent us backward, so there's work to do to convince people. But auctions are the answer.
Conducting a live auction where all participants can witness the process (to keep it honest), and let the transparency drive the Fear Of Losing is the most effective way to get buyers to pay top dollar.
Will the Jacked-up Covid-19 Era Finally Cause Auctions to Emerge as the Answer?
It doesn't have to be anything fancy – this one worked great:
Here Are Some More Examples of the Frenzy:
The agent reported receiving over 30 offers on this one
.
This house went live on the MLS around lunchtime on Thursday, and by Friday afternoon all 52 showing appointments allotted for the weekend were booked.
I got here early enough to catch the 3:15 agt on her way out, but the 3:30 agent showed up ten minutes late (his clients were on time) and he locks himself inside the house – which is all it takes to screw up the whole schedule. I was the 3:45 appt – I think there were at least five other parties who came after me: