Carlsbad's Luxury Housing Market Is a Reliable Investment for Homeowners and Investors Alike. Here's Why.

Situated along the Pacific coastline, 45 minutes north of downtown San Diego, is the upscale enclave of Carlsbad. One of California's wealthiest cities, Carlsbad is also one of its most sought-after places to live.

​​​​​​​On the surface, its high desirability is thanks in large part to the city's idyllic location and near picture-perfect year-round weather. However, Carlsbad is more than just a gorgeous point between Los Angeles and San Diego. The draw of this city of roughly 115,000 residents is multifaceted.

Carlsbad is a vibrant city with a robust business community, great neighborhoods, and one of the nation's top public school systems. Here, you'll find attractions and an endless slate of restaurants, entertainment, and outdoor activities both in-town and in the nearby neighboring communities.

In addition to its undeniable appeal when it comes to relocation, Carlsbad is a great place to invest. It's one of those rare places that can be all things to all people.

​​​​​​​So whether you're seeking a permanent home—a place to lay down roots (and build up some sizable equity)—or looking for investments with a reliable ROI, here are five reasons why Carlsbad real estate is a good investment.
​​​​​​​

Rising Values
To understand Carlsbad's appeal, it helps to first look at the overall market, where it's been, and where it's headed. According to Zillow, the has been on a meteoric rise over the past decade.
Based on their reporting from 2011 to August 2020, its median home value has risen from just under $600,000 to $959,000. While that trend has seen its share of ups and downs, overall, this upward growth is consistent—and consistently good. Zillow anticipates that the previous one-year home value increase of 5.3% from August 2019 to August 2020 is set for a near repeat. Even while factoring in the potential lingering impact of the COVID-19 pandemic, they forecast a 4.6% rise in the coming year.
For their part, . Their data also reflects a sale-to-list price ratio of 99% and an increasing seller's market. Homes typically stay on the market for less than 50 days. Single-family homes, in particular, are a hot commodity.
Adding to the city's rising value is its steady job market. Several notable companies have corporate headquarters in Carlsbad, including biomedical firm Applied Spectral Imaging, weight-loss company Jenny Craig, and video game developer Rockstar Games. The area is also a mecca for the golf industry, with such brands as Callaway Golf, Cobra Golf, and TaylorMade-Adidas Golf Company calling the city home.

Credit: Tripadvisor
Location
You can spend hours upon hours extolling the virtues of Carlsbad's idyllic location. Its oceanside setting grants residents easy beach access from anywhere in the city. It also has an ambiance that heightens the appeal of day-to-day life. Shopping, dining, and visiting the city's major landmarks are decidedly more enjoyable when done within reach of a Pacific Ocean breeze.
However, Carlsbad's location offers a far more significant benefit: proximity to major Southern California destinations. Although its North County location makes it seem remote, Carlsbad is anything but isolated. The I-5 runs along the city's western corridor, offering convenient access to downtown San Diego and the San Diego International Airport, both of which are 40 minutes away by car and just over an hour by train. This puts you close to one of the nation's hottest job and startup markets in San Diego.
Many don't realize that Carlsbad is also a bridge between San Diego and Los Angeles. If you're part of the recent wave of work-from-home transplants, Carlsbad offers tremendous value versus some of the pricier locales in LA, Orange County, or San Diego.
Regardless of where the demands of your professional life take you, Carlsbad is the perfect waypoint for your personal commitments. Coastal hotspots such as Del Mar and Laguna Beach are easily within reach—20- and 40-miles, respectively. If the inland luxury outpost of Palm Springs is more your pace, you can be there in two hours or less!
Ultimately, whether you're heading north, east, or south, Carlsbad is the central hub around which the rest of Southern California revolves.
​​​​​​​

Excellent Schools
Of course, the amenities closer to home is what drives many to seek out property in Carlsbad. One of the top indicators for whether real estate will make a good investment is access to high-quality education—and excellent schools are ever-present in Carlsbad.
According to community research site Niche, Carlsbad offers one of California's . Beyond that, it's also one of the premier school experiences in the country. Niche ranks Carlsbad at number four of the cities with the best public schools. Of the community's 55 public schools, 33 have an overall Niche grade of A- or higher.
These lofty ratings carry across multiple school districts and include every grade level from Pre-K through 12th grade. Regardless of where you live in Carlsbad, your children are sure to have access to top-level public educational opportunities.
The city also features many standout opportunities for those who opt to give their children private school education. ranks as one of the state's top 50 private high schools.
​​​​​​​

High Standard of Living
Jobs. Location. Schools. If you were seeking an idyllic spot to buy a home or invest in property, you could stop at these three factors. With this combination, it's easy to explain the draw of Carlsbad. But as with many great cities, this North County burg has so much more to offer.
As noted earlier, Carlsbad has broad appeal—it's one of California's few cities that appeals to both young and old, growing families, and retirees. The Niche rankings reinforce this claim.

​​​​​​​It's one of the best places in the U.S. to raise a family and is an ideal location for people to retire. Thanks to its beaches and access to open spaces, it ranks highly for its outdoor activities. Carlsbad is also regularly lauded, along with San Diego, as one of the nation's healthiest places to live.

There's no denying the city's dynamic dining, shopping, and entertainment scenes. Most notable are the establishments along the coast and a few blocks inland. Residents and tourists alike flock to these areas, which also feature many nearby residences for those who want to be close to the action.
Distinctive neighborhoods feature prominently elsewhere throughout the city, providing both new residents and potential investors with a lot of options on how to spend their real estate dollars. There's quaint and charming downtown, mid-century bungalows, and ritzy oceanfront homes throughout the city. Northeast offers well-appointed single-family residences and townhomes - traditional neighborhoods with a more rustic aesthetic.
In the south, there's high-end suburban living. Golf reigns supreme in this part of Carlsbad, including La Costa Resort and Aviara Golf Club. There's also the natural beauty and outdoor recreation of nearby Batiquitos Lagoon.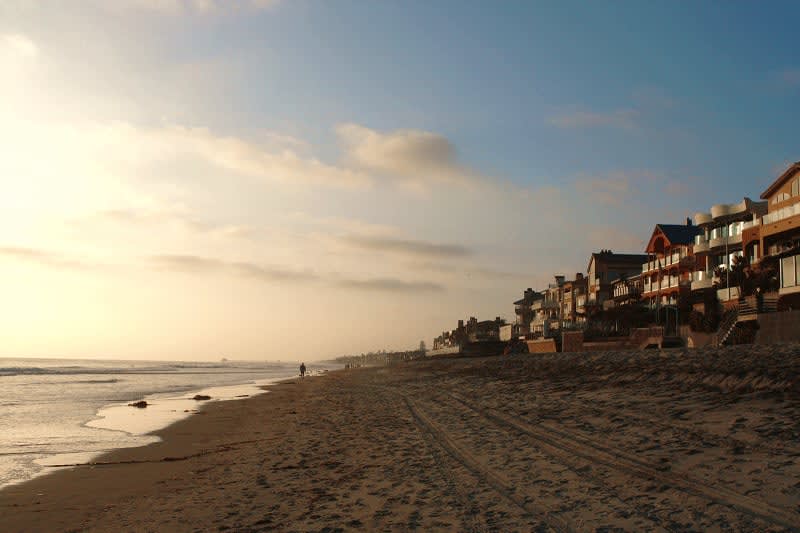 ​​​​​​Popular Tourist Destination
For investors with an eye towards vacation rentals, few places are more appealing than Carlsbad. Given its proximity to San Diego, this city offers visitors easy access to explore its many attractions and big events, including the annual San Diego Comic-Con.

Carlsbad also serves as a great jumping-off point for Greater San Diego County and beyond. Carlsbad is near several natural, inland attractions, including Blue Sky Ecological Reserve, Daley Ranch, Elfin Forest Recreational Reserve, and Lake Calavera Nature Preserve.

But Carlsbad proper is no pushover when it comes to hosting tourists and vacationers. Recent reports show the city . And it's always looking to welcome more.

The city's highly coveted beaches, surf spots, golf courses, museums, and attractions, like The Flower Fields, LEGOLAND California, and the charming Carlsbad Village, prove irresistible for travelers seeking a unique Southern California experience.

Consistently rising value. A central Southern California location with an incredibly hot job market. Excellent, standout schools and an equally impressive high standard of living. Plenty to do and see and a magnet for tourists both in-state and those further afield.

There's little doubt that Carlsbad offers a wise investor or potential homebuyer plenty of reasons to make a play within the local real estate market. Regardless of your aim—high quality of life or high rate of return—there is a place for you in Carlsbad.

Whether it's a forever home or future investment, if you're interested in homes for sale in Carlsbad, please today. We would love to be your guide to the Carlsbad real estate market and help you find your perfect home.

​​​​​​​*Header Image Credit: Tripadvisor